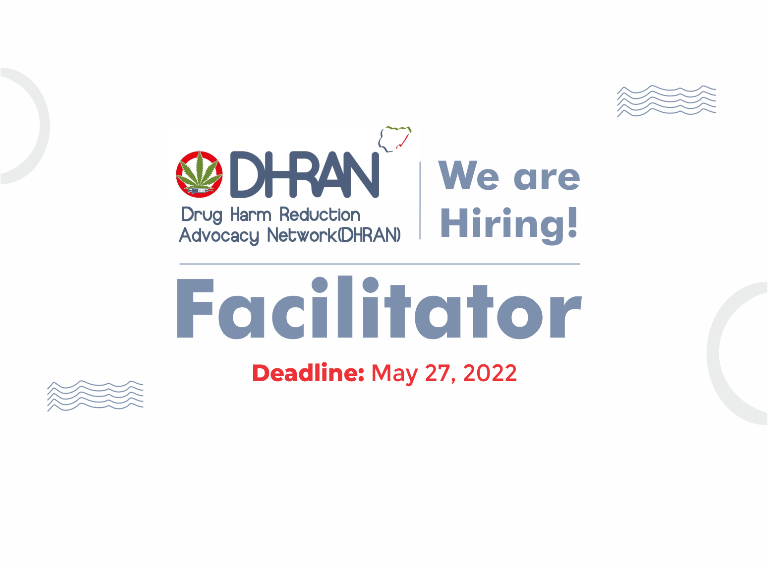 Opportunity Alert: Facilitator
DHRAN is a network of Drug User-focused community organizations advocating for the Right to Health and Dignity of people who use drugs in Nigeria. We are looking for an experienced Facilitator to facilitate on Monitoring and Evaluation of Advocacy, using advocacy plans and activities planned by DHRAN as practical examples. The successful applicant will be required to draw up an Agenda for the training which will be approved by DHRAN.
TITLE: Facilitator
EXPECTED OUTPUTS:
Agenda for the 3 days meeting (covering Advocacy, monitoring/evaluation and monitoring/Evaluation of Advocacy)

3-days relevant facilitation on Monitoring and Evaluating Advocacy

22 members of DHRAN trained on Monitoring and Evaluation of Advocacy

Development of DHRAN Advocacy M&E Template

Report of the 3-day training.
Evaluation:
Pre and Post Test Evaluation analysis of participants

Availability of advocacy M&E template specific to DHRAN activities
Expected Outcomes:
Improved knowledge among members of monitoring and evaluation of advocacy
NUMBER OF PARTICIPANTS:
TIMELINES:
Deadline for Application – May 27, 2022

Engagement of Consultant – June 10, 2022

Capacity Building Activity – June 17, 18, & 20, 2022

Reporting and Dissemination – June 30, 2022
CONSULTACY FEE:  N40,000/day (Exclusive of per diem, Travel and Accommodation)
REQUIREMENTS:
Applicants must have demonstrated experience on Advocacy

Applicants must have in-depth knowledge of Monitoring and Evaluation

Profile, Relevant Experience and Letter of Application should be sent to

[email protected]

on or before May 27, 2022.